Perspective
"What you see depends not only on what you look AT, but also, on where you look FROM."
--James Deacon
Does the world look different today? Is it different, or are we looking at it through a different pair of eyes – or both?
How have our lives changed since COVID-19 was first reported on December 31, 2019? The pandemic has given us time for reflection – for self-reflection – even as Social Justice issues compel us to reflect on life, diversity, and equity – or the lack of it.
Highs and lows seem to come in waves. Some days, I feel energized to step up and speak out. Other days, I feel exhausted being a part of one after another "historical event" in my lifetime. In our country alone, every day brings stories of hope and recovery through the efforts to tame the COVID pandemic, even while there are still challenges, losses, grief, new threats, and surges. Those highs and lows play out against a backdrop of social issues that remind us that we must look beyond the obstacles to find the opportunities. The cries of pain in one small town or big city echo throughout the country. We must hear them, and respond to them, individually and collectively.
Social Justice and pandemic challenges, pressures, concerns, fears, and stresses have highlighted the importance of strengthening equitable mental health services to support psychological and emotional wellbeing for all. Gambling disorder, SUDs – all addictive disorders – are harmful to psychological and physical health. Now, more than ever, we need to look at the big picture – the whole picture of mental health and physical health and where our work fits into these services. Addictive disorders, particularly gambling disorder, have been relegated to silos for too long. They need to be recognized and addressed at the table in mental health discussions; in the ER; on the minds not only of counselors, but primary care providers, state agencies, insurance carriers, policy and decision makers, and the general public.
As we continue to gain a new perspective and to reflect on both challenges and opportunities, what can we all do – together – to ensure the programs and services we offer address the needs of everyone in our society, meet them where they are, and respect and recognize how their own perspectives and experiences have shaped them.
Maureen Greeley
Executive Director
ECPG Celebrates 30th Anniversary!
May 2021 marks the beginning of ECPG's 30th Anniversary Year, and that's worth celebrating. In the coming year, we hope to celebrate with you in person. Right now, we can celebrate with our Members, Friends, Colleagues, and Partners through digital communications. The most important addition to ECPG's digital/social media platforms is our new and exciting Website! Visit us at evergreencpg.org for information and resources, links to great videos, recorded events, podcasts, and more. We hope you'll find our new look and feel both inviting and more user-friendly.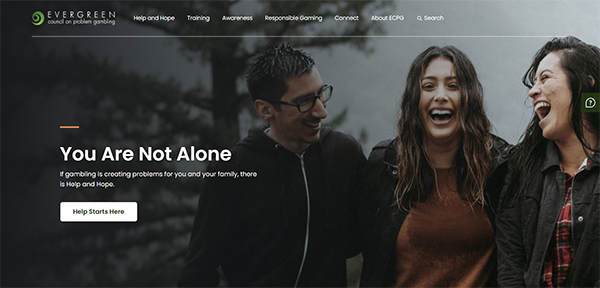 Throughout the next 12 months, we'll be celebrating our milestone anniversary by sharing with all of you highlights of ECPG's Achievements, Key Relationships, and our Vision for the Future.
Thanks to ALL of You for helping ECPG provide high-quality programs and services for 30 years – and for continuing to help us do even more for decades to come.
An Invitation for You to Join an ECPG Community Advisory Committee
The Evergreen Council on Problem Gambling works hard as a small nonprofit organization in partnership with many other organizations and agencies to offer the most effective programs and services to meet the needs of individuals, families, and communities throughout Washington. Community Advisory Committees provide a structure of involvement by diverse groups of community members who can offer invaluable support, experience, and insights and provide crucial connections with community organizations, agencies, and coalitions in order to strengthen programs and services.
ECPG welcomes qualified and dynamic community representatives to share insights and knowledge to help guide the work we do to offer effective services and program delivery in communities throughout Washington. Community Advisory Committee members have a genuine interest in ECPG's Mission and work, and a desire to help break down barriers and eliminate gaps in services for awareness, prevention, treatment, and recovery supports.
Join an ECPG Community Advisory Committee!
Click here for more information or go directly to the application form.
Kaleidoscope
The beauty of a Kaleidoscope comes from the ever-changing sequence of diverse and complex patterns created by multiple individual elements that reflect their piece of the full beauty in relation to each other. But, you can only see this beauty if you invest in holding it up to the light and looking inside with great focus. It is only by shining light on the unique individual shapes, and how they connect to one another as a whole, that you can truly experience the beauty of the dancing and reeling colors and shapes to full effect. These connections and reflections have inspired the name of ECPG's newest live streaming program…
Kaleidoscope
Reflections of Diverse Views on Mental Health Equity
Premiere Episode: Thursday, May 20, 2021, 1 p.m. PT/2 p.m. MT/3 p.m. CT /4 p.m. ET
Victoria Chau, PhD, MPH
Office of Behavioral Health Equity
Substance Abuse and Mental Health Services Administration (SAMHSA)
Dr. Tam Dinh, Commissioner
WA State Commission on Asian Pacific American Affairs
Program Director, St. Martin's University Social Work Program
Timothy Fong, MD
Co-Director, UCLA Gambling Studies Program
Director, UCLA Addiction Psychiatry Fellowship
Don't miss this episode! Find it here. Airs live on May 20, 2021 at 1 p.m. PT and can be viewed anytime afterward for free and on-demand via Facebook or YouTube.
June Training Opportunities Offer up to 18 CEs!
Scholarships Available
Join us in June for some fantastic training topics to assist you in your professional development and the work you do to support others. Chose 1, 2, 3, or all 4 training days in June.
Half-day Sessions:
June 14:

9 a.m. to 1 p.m. (PT)

June 15:

9 a.m. to 1 p.m. (PT)

June 28:

9 a.m. to 1 p.m. (PT)
Special Full-Day Session on ASAM for Gambling Disorder:
June 29: 9 a.m. to 4 p.m. (PT) – This special ASAM for Gambling Disorder Session is presented by Gerald Shulman, an author of all three editions of the ASAM Patient Placement Criteria Gambling Disorder section, who provides extensive training and implementation consultation on the Criteria, co-occurring disorders, treatment planning and documentation, relapse prevention, and evidenced-based practices.
There are so many great sessions to choose from in June, including:
ASAM for Gambling Disorder

Culturally Sensitive Care in Your Practice – Looking at Intersectionality

IOP Group Therapy for Gambling Treatment

Outside the Box Therapy

Tech Addictions
Teleheath Forum – What We've Learned; Where We're Headed
Trauma and Screen Use
Treatment Planning
For more information and to register visit the June ENGAGE Training webpage here.
ECPG LIVE! Has Lots to Offer
June 28, 1:30 p.m. PT – Outside the Inbox: Tech-based Tools for Healing
Guest Jody Bechtold, CEO of The Better Institute and author of The Gambling Disorder Treatment Handbook, will be joining us to talk about tech-based tools for learning and engagement, recovery, and counseling. Airs live on June 28, 2021, at 1:30 p.m. PT and can be viewed anytime afterward for free and on-demand via Facebook or YouTube.
This episode immediately follows day three of ECPG's June professional development training series, continuing information sharing on "outside-the-box" ideas. (To find out more about ECPG's June training opportunities scroll up to "June Training Opportunities" or go to the June training webpage here.)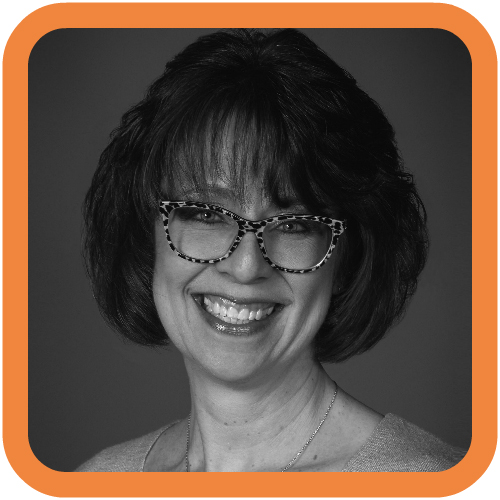 Jody Bechtold, LCSW, ICGC-II, BACC, PC
www.betterinstitute.com
Available On-demand – Getting Off an Emotional Roller Coaster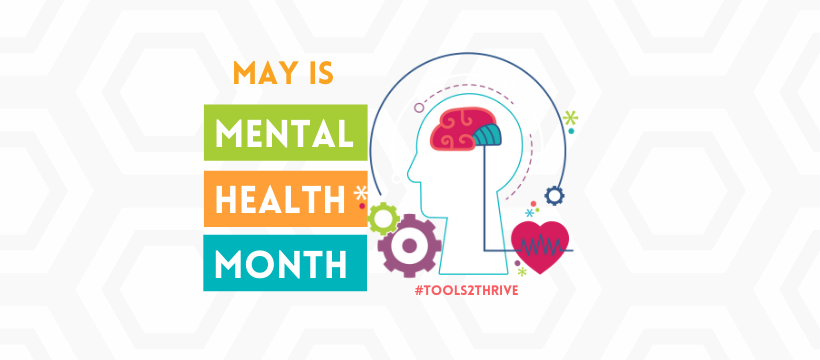 Guests Brad Galvin and Janai Carraway, prepare viewers for Mental Health Month (May). Join a discussion on topics such as cognitive coping and emotion regulation – What does that even look like anyway?; relationships and boundaries – When someone keeps dragging you back on to the roller coaster; engaging the body in emotional health; and asking for help. Aired live on 4/30/21 and is now available free and on-demand via Facebook or YouTube. Visit the blog for helplines and resources from the episode.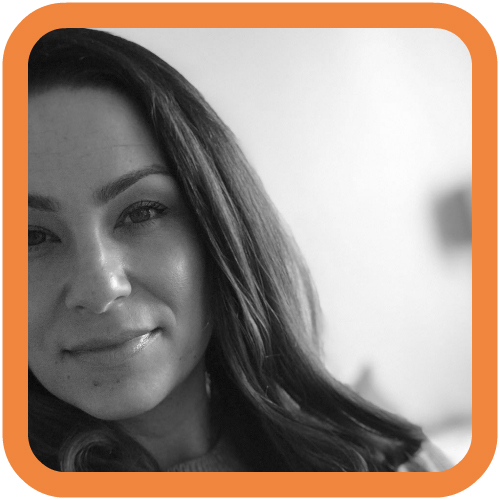 Janai Carraway, M.Ed, LMHC, SUDP, WSCGC-II
www.janaicarraway.com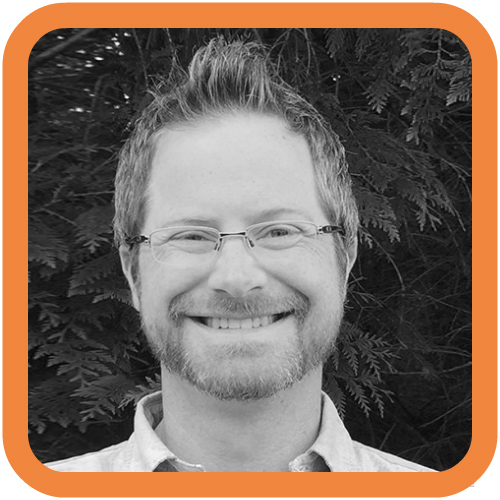 Brad Galvin, MS, LMHC, LPC, SUDP, ICGC-II
www.brieftherapyworks.com
Available on-demand – Voices of Awareness
Available on-demand here, is ECPG LIVE! – Voices of Awareness.
You know this duo from the Connections: Healthy Gambling and Gaming podcast, Tana Russell (Assistant Director of the Evergreen Council on Problem Gambling) and Julie Hynes (Executive Director of the Oregon Council on Problem Gambling) come together to co-host an episode of ECPG LIVE! – Voices of Awareness.  This episode brings together several fellow problem gambling recovery podcasters, moving from behind the mics to in front of the camera to discuss their most memorable moments, their biggest motivators, and messages of hope and encouragement for life in recovery from gambling.  Aired live on 3/26/21 and is now available free and on-demand via Facebook or YouTube.
You can find links to each of the featured podcasts, and other podcasts that were mentioned in the episode here on the blog.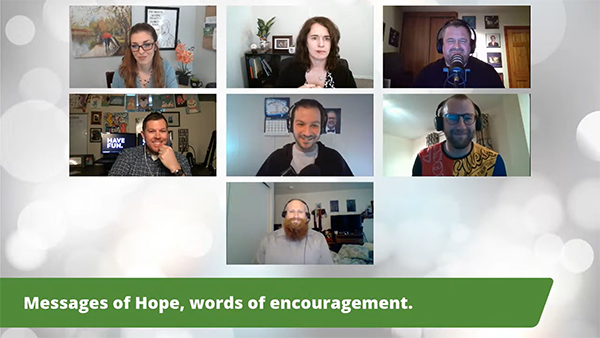 If you'd like to view any/all past episodes of ECPG LIVE!, you can find them here on our website, Facebook, and YouTube.
If you are interested in becoming a sponsor of ECPG LIVE!, or any of ECPG's digital programs, please contact Maureen Greeley at mlgreeley@evergreencpg.org
Gambling Counselor Core Training (30 hours) Returns in October 2021
Feedback from the recent launch (March) of ECPG's first 100% online Gambling Counselor Core Training was positive and helpful in making the next offering even better. So, if you, or a colleague, are interested in learning more about the field of gambling disorder counseling, mark your calendars for:
Gambling Counselor Core Training—October 18-21
More information and registration to follow. Until then, if you have any questions, please contact Tana Russell, ECPG Assistant Director, at trussell@evergreencpg.org
This training provides the total 30 CE hours required for certification as a Washington State Certified Gambling Counselor (WSCGC), and/or international certification through the International Gambling Counselor Certification Board (IGCCB). The training includes a 10-hour self-directed portion (Part 1) and a 20-hour live-learning webinar portion (Part 2). Visit the training page for more details about what topics are covered in the training.
For those seeking to become Washington State Certified Gambling Counselors (see next section below for more information on Certification), please familiarize yourself with the Certification Manual, to review all requirements, including education and licensing requirements, to verify your eligibility and ability to complete the full Certification program. The Gambling Counselor Core Training is open to all, but only those who qualify are eligible to go on to complete the Gambling Counselor Certification program. Many Recovery/Peer Coaches, Prevention Specialists, and casino staff choose to attend the training to: gain information, develop skills, learn best-practices for screening, brief interventions and referral to treatment, and support community outreach and awareness. Attendees leave the training with the ability to increase a culture of acceptance of problem gambling as a public health issue that is treatable, sharing messages of help and hope, and saving lives.
Here is what some attendees said about the training:
"I felt I learned even more than promised."

"Amazing experience!"

"Very impressed with the format and ongoing information"

"Great topics and the presenters are beyond simple knowledge; they are true experts J"

"I will definitely use this at work immediately upon my return."

"For such a complex topic, the amount of info/resources shared was immense."

"It was a pretty incredible experience, and I am very grateful to have been able to participate, which I was only able to do via the scholarship. THANK YOU!"
Washington State Gambling Counselor Certification
Certification allows clinicians to offer and bill for gambling treatment services and provide support to individuals and families. It is a serious commitment, providing rewarding and life-saving services.
Those wishing to become a Washington State Certified Gambling Counselor (WSCGC) should familiarize themselves with all certification requirements listed in the Certification Manual here. Certification is available to those who currently possess a Washington State Department of Health-issued license/certification in mental health, social work, marriage and family therapy, psychology, or substance use, and can meet all other certification requirements.
ATTENTION!
Certification/Renewal Training Requirement ADDITION:
Starting July 1, 2021, new applicants, and all renewals must provide documentation of a minimum of 6 hours of Cultural Competency training/continuing education.

Connections: Healthy Gambling and Gaming Podcast
Season 2, Episode 3: What's Trending? LISTEN NOW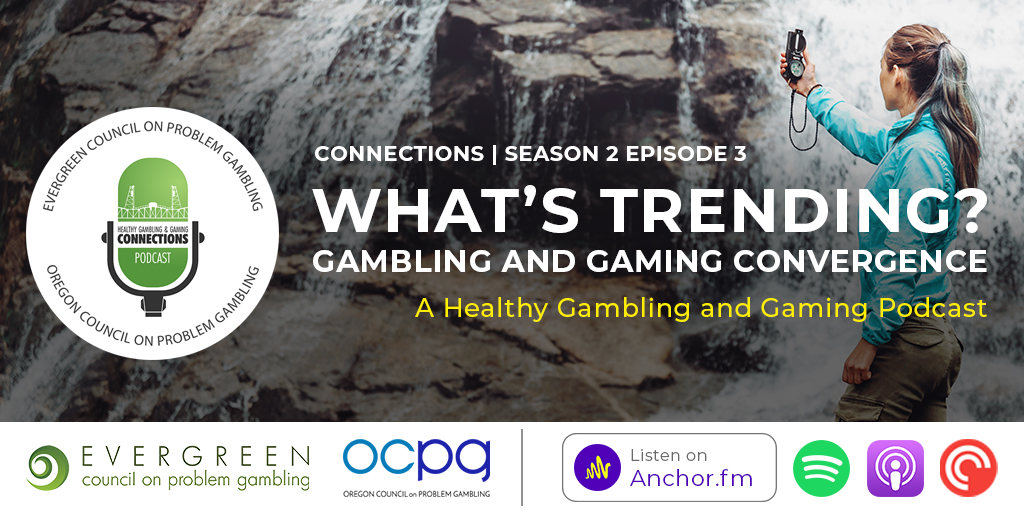 In "What's Trending?" Julie and Tana discuss the current trends in gaming and gambling convergence, including loot boxes and other monetization strategies within video games. They share a 2021 report from GambleAware that reviews evidence linking loot boxes to problem gambling and problem video gaming, and provides recommendations for future policy. They cover what PEGI video game warning labels mean, and how that might change if loot boxes start being regulated as gambling. They also talk a lot about food.
Season 2, Episode 2: What is GameSense? LISTEN NOW
"What is GameSense?" features guests Amy Gabrila and Ray Fluette, two supervisors with Massachusetts GameSense, a program created by the British Columbia Lottery Corporation (BCLC) and licensed by the Massachusetts Gaming Commission to be operated by the Massachusetts Council on Gaming and Health. Amy and Ray's workplaces are actually inside two Massachusetts casinos. In this episode, they share how GameSense educates casino patrons and community members on myths and facts of gambling games, shares ways to play responsibly, and helps them access resources when gambling starts to cause problems.
Season 2, Episode 1: Just Breathe LISTEN NOW
In "Just Breathe" we interview Dr. Deborah Haskins, President of the Maryland Council on Problem Gambling and a leader in social justice and equality advocacy work.
Dr. Haskins is a longtime advocate for integrating cultural diversity into mental health services. This episode covers issues such as the continued "pressure cooker" of racial injustice and the Black Lives Matter movement, trauma, burnout from social justice work, and how the pandemic has changed how we must advocate and take care of ourselves. As Dr. Haskins says, "All we're really required to do, honestly, is breathe."
If you are interested in being a sponsor of the Connections podcast, or any of ECPG's digital programs, please contact Maureen Greeley at mlgreeley@evergreencpg.org
Cowlitz Indian Tribe
Problem Gambling Services, ilani
Partner Profile
The Cowlitz Indian Tribe, the Tribe's Problem Gambling Services, and ilani are committed to establishing strong awareness, education, and treatment programs for those impacted by Gambling Disorder. The partnership between the Tribal Problem Gambling Services, ilani, and the Evergreen Council on Problem Gambling has resulted in important education and training programs for staff in the areas of treatment and responsible gambling, including development of new outreach materials, support for counselors working toward their Gambling Counselor Certification, and consultation on processes, practices, and peer support services.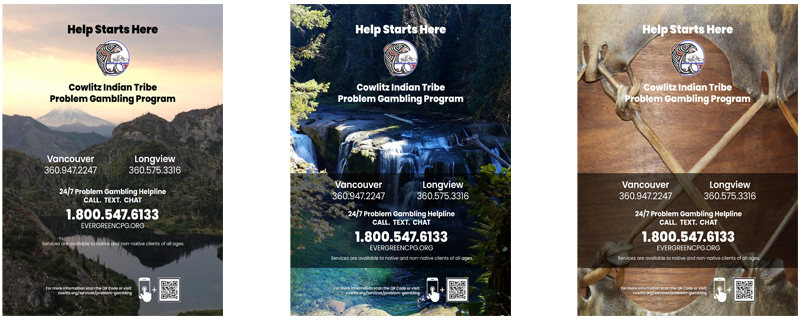 The Problem Gambling Services Program is available to native and non-native clients. It is safe, confidential, and free. The Program encourages individuals and family members to participate in the treatment and recovery services. The Problem Gambling Services Program launched in 2018 at the Tribe's Vancouver offices and is now also available in Longview.
ilani, the Tribe's resort casino, works closely with the Problem Gambling Services Program to connect individuals seeking treatment for gambling-related issues with the treatment services through the Tribe. The ilani management team, led by Kara Fox-LaRose, is committed to strong Responsible Gaming programs and services. ilani is the first Tribal Casino to work toward Responsible Gaming Certification through ECPG's RG STAR (Responsible Gaming Staff Training And Resources) Program. Currently, training is ongoing with ilani Supervisors/Managers to be followed by frontline staff training and support. Kara Fox-LaRose joined the ECPG Board in 2018 and became a member of the National Council on Problem Gambling Responsible Gaming Committee in 2020.
ilani includes Responsible Gaming education and information on its website, on direct mail and email messages, at ATM Screensavers throughout the casino, on promotional materials, and through its social media platforms.
Spring Youth Forum
The Virtual Spring Youth Forum returns May 18. ECPG, along with a host of other presenters, will be discussing the current trends and issues facing today's youth and prevention efforts. Thanks to the Washington State Health Care Authority for hosting this incredible event. It's an honor to provide youth with information about gambling and gaming to help educate those who will become tomorrow's leaders.
Northwest Addiction Technology Transfer Center (ATTC)
The Northwest ATTC is a champion of trainings and events for Behavioral Health professionals (view their training calendar). On May 25, 1-4 p.m. PDT ECPG will be joining in their training line-up, offering a 3-hour session (for 3 CE credits) on Gambling, Problem Gambling, and Gambling Disorder: Addressing the Critical Elements: What Behavioral Health Providers Really Need to Know. This session will offer a broad overview of problem gambling. It will be viewed through the lens of cultural diversity and will also consider how problem gambling relates to other co-occurring disorders. Participants will gain an increased understanding of this topic and learn about tools for how best to screen for problem gambling and make referrals to a Certified Gambling Counselor. Information on how to pursue Gambling Counselor Certification will also be provided in the session.
Evergreen Council on Problem Gambling
1821 4th Ave. E, | Olympia, Washington 98506
360-352-6133 | info@evergreencpg.org