Winter 2021 Insights eNewsletter
From the Director's Desk
A New Year always brings with it renewed Hope. While we continue to experience grave challenges this year, we remain Hopeful. Our Hopes include Balance through Justice and Respect; Health through Knowledge and Persistence; and Peace through Compassion and Understanding.
The challenges of the COVID-19 pandemic are far from behind us, but even there, we begin to see some hope for a brighter, healthier future. We have a long way to go, and it will continue to impact our work, our stress levels, and our abilities to stay connected. While we work toward coming together again, all of us at ECPG continue to try to offer innovative and important learning opportunities that allow us to "gather" in the digital world. We cannot offer our Focus on the Future Conference in person this Spring, but we can continue to offer our Mid-Month Training series in February and March, and there are some exciting opportunities in store.
In February, our Evergreen Council on Problem Gambling, in partnership with our colleagues at the Massachusetts Council on Gaming and Health, will offer the Foundations in Gaming Disorder Core Training. This training is designed to meet the criteria established by the International Gambling Counselor Certification Board (IGCCB) to award participants who complete the full training an International Gaming Disorder Certificate. Watch for more information on our website. ECPG thanks all our Training Supporters who are making this possible, including reSTART for Life, the Oregon Council on Problem Gambling, and Washington State Health Care Authority's Problem Gambling Program.
March, of course, is National Problem Gambling Awareness Month, and we have Core and Advanced Training opportunities planned. For the first time, ECPG will offer our 30-hour Problem Gambling Counselor Core Training as a hybrid course. See more information in this newsletter regarding the combined live webinar and self-directed online training components. And, watch for announcement of Advanced Training options later this month!
We look forward to sharing many exciting new opportunities for Gambling Counselors and your clients, Mental Health Counselors, Recovery Service Providers, Prevention Specialists, Educators, Students, and more leading up to Problem Gambling Awareness Month in March. Until then, we hope you'll join us for all the great programs and services that allow us to stay connected and continue to serve individuals, families, and communities throughout the Pacific Northwest.
Happy New Year!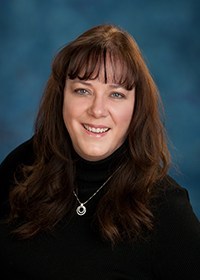 Maureen Greeley
ECPG Executive Director
Upcoming Trainings
(Live Webinars)
ECPG and our partners are Kicking Off the New Year with some amazing training and professional development opportunities you won't want to miss! Here are a few Highlights.
Foundations in Gaming Disorder Training Launches February 2021

In 2020, the International Gambling Counselor Certification Board (IGCCB) announced their new International Gaming Disorder Certificate (IGDC) stating:
This certificate aims to increase the number of counselors able to address gaming disorders in their current outreach, prevention, and clinical settings. Best-practices and evidenced based approaches are emerging for the treatment of gaming and digital misuse, as well as the intersection with problem gambling and gambling disorders. Other high-risk groups for co-occurring issues include other mental health and substance use disorders.
The Evergreen Council on Problem Gambling (ECPG), in partnership with the Massachusetts Council on Gaming and Health (MCGH) is offering for the first time in February 2021, its full Foundations in Gaming Disorder Training to meet the criteria for receiving the IGDC Certificate. This is a comprehensive core course that has been developed with the additional support of professionals at reSTART Life, which specializes in residential care, treatment and coaching for video game addiction and screen dependent teens and adults (based in Washington State) and our colleagues at the Oregon Council on Problem Gambling (OCPG).
The 17 hours of training include 12 hours of live webinars with key experts in the field on February 16-18; 3 hours of self-directed training available at your own pace; and 2 hours of follow-up support training via live webinar to help answer questions, address needs, provide interactive support, and further develop competencies.
View schedule, pricing, and scholarship details.
(Application pending for IGDC approval)
Part 1
12-hr Live-Learning
Feb. 16-18, 2021
Intro to Gaming
Intro to Gaming Disorder
Gaming Disorder among other addiction and Mental Health Disorders
Part 2
3-hr Self-Directed
Opt. 1: Treatment Track - Case Conceptualization. Using Case Studies to complete Screening, Assessment and Treatment Plan.
Opt. 2: Prevention Track - Strategic Prevention Framework. Using Case Studies to complete a Strategic Prevention Framework.
Part 3
2-hr Follow-Up Support
Date TBD
Review from Self-Directed content
Discussion of client interactions and experiences
Q&A
Interactive Support
Further developing competencies
Gambling Counselor Core Training – 30 hours (30 CEs)
How we are offering it virtually:
The total 30 hours have been divided into two segments, the first 10 hours in an asynchronous self-directed/self-paced learning format, the next 20 hours will be in a live-learning webinar format. Completion of both parts will be required for a Certificate of Completion for 30 CE hours in the Gambling Counselor Core Training program. Offering this hybrid version will help make the training adaptable to a larger variety of learning styles, eliminate travel barriers, and still allow for interactive learning, skills practice, and Q&A. Ideal for those who wish to obtain Certification in Gambling Counseling. Those who are not interested in pursuing a Certification in Gambling Counseling but wish to improve their understanding of problem gambling are welcome to sign up for the training as well.
Part 1
10-hr Self-Directed
Coming Feb. 1, 2021
Intro to Gambling Disorder
Health Considerations
Neurobiology
Intro to Screening
Treatment Planning Best Practices
Treating Families, Part 1
Co-occurring tobacco issues
Curriculum resources
Client Rights
Legal issues
Part 2
20-hr Live-Learning
Mar. 15-18, 2021
Skills practice: screens, assessments, treatment plans, case studies
Special issues: attitudes/beliefs, trauma, suicide, co-occurring disorders
Cultural competence and special populations
Treating Families, Part 2
Engaging Clients in Treatment
Relapse Prevention
Financial Therapy
Self-Care for therapists
Multiple pathways of recovery
Counselor Certification process
Q&A and interactive learning
The self-directed portion is scheduled to launch February 1, allowing 45 days for learners to complete Part 1 before the first opportunity to complete Part 2, the 20-hour live-learning webinar portion, which will be offered March 15-18, 2021 (during the Mid-Month Training), and again July 12-15, 2021.
Training scholarships are available for treatment providers, prevention specialists, peer/recovery coaches, students, and educators.
IGCCB Exam Prep eCourse (2 CEs)
The IGCCB Exam Prep eCourse is a self-directed/self-paced ecourse that provides: an overview of the Gambling Counselor Certification process, an overview of the exam process and handbook, 100 practice questions, study resources, and more. Earn 2 CE credits while preparing to take the IGCCB exam.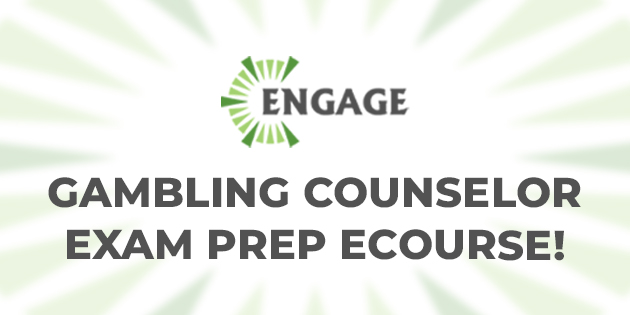 What some learners have said:
"This study course was FANTASTIC! I loved the videos as well."
"It gives me more self-confidence."
"It was extremely helpful."
Application Deadline

Testing Window

March 10, 2021

April 10-24, 2021

July 14, 2021

August 14-27, 2021

November 3, 2021

December 4-18, 2021
If you have missed any of the ECPG LIVE! episodes, you can still watch them any time.
CONNECTIONS PODCAST: HEALTHY GAMBLING & GAMING
Join co-hosts Tana Russell, Assistant Director of Evergreen Council on Problem Gambling, and Julie Hynes, Executive Director of Oregon Council on Problem Gambling, as they discuss gambling and gaming with internationally renowned subject matter experts. The two hosts, with their dynamic personalities, shine a light on the topic of gambling and gaming disorder with genuine care, humor, and a passion for knocking down barriers to care and reducing the stigma associated with seeking help.
Listen on anchor.fm/connections-podcast and other popular platforms.
We now have many great videos you may want to use as educational tools and resources, available now, on youtube.
Presenter Vlogs provide bite-sized education on topics such as PTSD, gambling and the military, clinical supervision, recovery residences, family treatment, and more!
The Evergreen Council on Problem Gambling is pleased to recognize members of the Gaming Industry in Washington who are committed to supporting Responsible Gambling. The ilani Casino and Maverick Gaming have both made commitments to pursue the RG STAR Responsible Gambling Certification at the Platinum level. This commitment includes Responsible Gambling training for supervisors, managers, and frontline employees, as well as supporting awareness and information on treatment and referral, helpline information, and policies and procedures that include Responsible Gambling support. ECPG is honored to have been the recipient of significant contributions from these gaming industry members to support programs and services for awareness, prevention, and treatment for those affected by problem gambling in Washington. For more information on RG STAR programs, click here.
PRESS RELEASE: MAVERICK GAMING™ CONTRIBUTES FINANCIAL SUPPORT TO PROBLEM GAMBLING SERVICES ORGANIZATION
ECPG is honored to have been the recipient of a significant contribution in the amount of $194,381 as part of Maverick Gaming's commitment to supporting responsible gambling programs and services in Washington State. That this contribution represents support from many of the card rooms that Maverick Gaming operates throughout Washington is meaningful in that the work ECPG does supports those who need prevention, treatment, and recovery services also reaches throughout Washington.
Gambling Counselor Certification
The Washington State Gambling Counselor Certification (WSGCC) Committee has been working hard these past two years to update the Certification Manual and reduce barriers for Certification and Supervision.
International Gambling Counselor Certification Board
We believe problem gambling treatment should be provided by counselors with gambling-specific certification, and that certification should be of the highest level," said Keith Whyte, Executive Director of NCPG.
"The IGCCB looks forward to continuing our mission of providing certifications that set the standard for best practices, ensuring those seeking help will receive the highest-quality service possible by competent professionals," said Jeremy Wampler, President of the IGCCB.
Starting in 2021, Information on certification and finding an ICGC gambling counselor will be hosted by IGCCB at www.igccb.org, including answering any inquiries people might have. Those looking for information about earning or renewing certification can visit IGCCB.org.
Oregon Council on Problem Gambling: Gaming-Survey
A new group of individuals throughout the U.S. and U.K. have formed an Internet Gaming Disorder Prevention Workgroup. Our first project is a needs assessment: what are gaming habits of individuals primarily in the U.S., and what are some potential needs to address from a prevention perspective?
To that end, we have developed a survey for laypeople – anyone who games or knows someone who games. The survey asks about gaming habits, if there are any concerns, and any potential needs for education. Results will be used to plan primary prevention and harm reduction efforts.
Know someone who plays video games, or do you like to play? Whether it's on your phone, computer, console or laptop, we want to hear from you in a gaming habits survey. When did you/they start gaming? How often? Any concerns? Results will be used to help plan prevention and education efforts. The survey is anonymous, completely voluntary, and takes about 5 minutes to complete. This survey is an in-kind project of the International Gaming Disorder Prevention Workgroup.
To take the survey or read more, click here https://oregoncpg.org/gaming-survey/