What's in this issue:
PERSPECTIVES
Three Decades on, ECPG is Going Strong – personal message from Maureen Greeley
BREAKING NEWS
Updates to Medicaid State Plan May Include Funds for Gambling Disorder Treatment!
ECPG AND NCPG UPDATES
ECPG Receives National Recognition and Awards
New Outreach Efforts for Military Veterans, Active-Duty Personnel, and their Families (OpRG)
TRAINING AND EVENTS
Upcoming Training Opportunities Calendar
Foundations in Gaming Disorder – Core Training and Partner Profiles
Gambling Counselor Core Training
Washington State Gambling Counselor Certification - Updates
IGCCB Exam Prep eCourse
Focus on the Future – Annual Conference 2022
WASHINGTON STATE PROGRAMS AND RESOURCE UPDATES
Voluntary Self-Exclusion Programs and Best Practices
Washington's Lottery Voluntary Self-Exclusion
Gambling Commission Approves Sports Wagering Licensing Rules
Washington State Problem Gambling Task Force
PARTNER PROFILE
Welcome Peer Olympia!
WIGA Expo
CONNECT WITH US – upcoming and latest free episodes
ECPG LIVE!
Kaleidoscope: Reflections of Diverse Views on Mental Health Equity
Connections: Healthy Gambling and Gaming Podcast
THREE DECADES ON, ECPG IS GOING STRONG
30
years ago, a handful of passionate treatment providers, recovery community members, and other dedicated individuals came together with the goal to raise awareness and provide support for those impacted by problem gambling. They were clear then, as we are now, that the organization they founded would not be anti-gambling but would build its Mission around ensuring programs and services to help those in need and to raise awareness to reduce (and someday, eliminate) the stigma around problem gambling and what we now call Gambling Disorder.
This dedicated group provided the foundation for what would become the Evergreen Council on Problem Gambling. Three decades later, we are proud to celebrate ECPG's 30th anniversary – a significant milestone in our history and a testament to the partnerships and relationships that have allowed us to expand quality programs and services. How do you mark such an important milestone?
ECPG wants to celebrate with all of you who make a positive difference every day in the lives of others – particularly celebrating our long-standing partnerships. We're planning ways to commemorate ECPG's history; sharing thoughts from some of the key leaders who have shaped ECPG and its work over the past 30 years through their service; and looking at 30 lessons we – and you -- have learned along the way. We want to include you in this celebration, so watch for lots of ways to participate over the 30-week period from October 1, 2021, through May 1, 2022. It all leads up to our very special 30-Year Celebration as we gather together again at Focus on the Future from April 25-28 at The Heathman Lodge in Vancouver, WA. We hope you'll plan to come join us to learn, to share, to reconnect, and to Celebrate!
Maureen Greeley
Executive Director
The Washington State Health Care Authority intends to submit a State Plan Amendment to update the language of the Medicaid State Plan. 
The language changes to the State Plan will:
Update the section to represent the current behavioral health system which integrates substance use disorder services and mental health services.

Reduce redundant language in the State Plan.

Update agency and licensing names.
No significant changes will be made to the current services available, who can provide the services, or any limitations associated with the services.
If approved by the legislature, a new provision will be added that would allow Medicaid funds to be used on problem gambling treatment services, which are currently paid for with state funds. This State Plan Amendment is the first phase in a longer-term plan.
Please support these efforts by reading the proposed amendments and providing comment. How can You comment on the State Plan Amendment?
Email Jessica.Diaz@hca.wa.gov in order to receive a draft of the State Plan Amendment.
Email HCAmcPrograms@hca.wa.gov to make any comments on the State Plan Amendment. 
ECPG Receives National Recognition and Awards!
During the National Conference on Problem Gambling in July 2021, the Evergreen Council on Problem Gambling was recognized with two significant awards in our field.

Affiliate Multi-Cultural Communications Award
For our Pausa. Respira. Conecta. Campaign, which was a supported program by the Washington State Problem Gambling Program, Division of Behavioral Health and Recovery, Health Care Authority. ECPG's Latinx Community Advisory Committee was instrumental in helping develop many elements of the campaign, as well as the new Spanish language page on our re-designed website https://www.evergreencpg.org/es/
The Multi-Cultural Communications Award is presented for the most effective multi-cultural outreach program using integrated communication channels.  ECPG is the first Affiliate to receive this recognition twice.  Our Council received the premier award when it launched in 2016 for our communications and outreach with Tribal Nations.
Affiliate Website Award
for our new and improved ECPG Website --  www.evergreencpg.org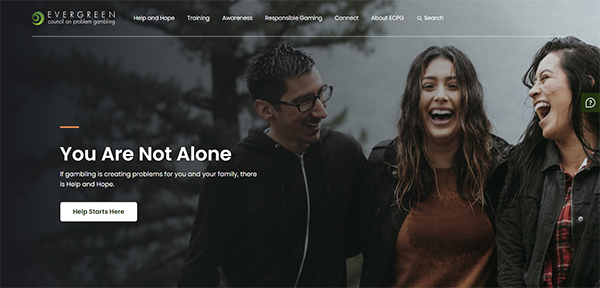 The NCPG Website Award is presented to the outstanding website that has best raised public awareness of problem gambling.
NCPG Announces New Board Leadership and Exciting New Partnership
On July 20, the NCPG Board of Directors kicked off its 2021-2022 term by seating four recently elected Directors and electing new officers. See full news release here: https://www.ncpgambling.org/ncpg-announces-2021-board-of-electors-election-results/
The Board's new Executive Leadership Team:
President: Maureen Greeley, Executive Director, Evergreen Council on Problem Gambling
Vice-President: Jeff Wasserman, JD, Judicial Outreach and Development Director for the Delaware Council on Gambling Problems
Treasurer: Susan Sheridan Tucker, Executive Director, Northstar Problem Gambling Alliance
Secretary: Mary Drexler, Program Director, Maryland Center of Excellence on Problem Gambling.
New Outreach Efforts for Military Veterans, Active-Duty Personnel, and their Families
www.operationresponsiblegambling.org
Veterans and active-duty service members have a greater risk for gambling addiction. The goal of Operation Responsible Gambling is to increase awareness of gambling problems among members of the entire military community – veterans, active-duty personnel, family members, and concerned others. Operation Responsible Gambling is an initiative of the National Council on Problem Gambling with funding from the Entain Foundation.
Visitors to the site are encouraged to
Learn what problem gambling is and how to recognize it.
 Know how to get help wherever you are – both self-help and professional help.
 Find out what other people like you are doing about it – by watching brief stories and PSAs from military members in recovery.
Upcoming Training Opportunities Calendar
Winter Quarterly Training
January 25-27, 2021 - More Details to Come
Foundations in Gaming Disorder – Core Training (15.5 CEs)
This Foundations in Gaming Disorder virtual 15.5-hour course is designed to provide the critical knowledge needed to address at-risk gaming and gaming disorder, from prevention through treatment and recovery. Clinicians will be better equipped to screen, identify, and treat gaming disorder. Prevention specialists will be better equipped to understand risk and protective factors and implement science-based prevention strategies. All will understand the impacts on unique populations and critical connections of gaming disorder with other behavioral health and addictions issues.
View the full details and register at whatisgamingdisorder.com
Dates: September 21-22 and October 5-6, 2021
Time: (all four days) 8:45 a.m.-2:00 pm PT / 9:45-3:00 MT / 10:45-4:00 CT / 11:45 to 5:00 ET
Location: Online
Presenters: Dr. Hilarie Cash, Karen Hlady, Dr. Marc Potenza, Dr. Ed Spector, Dr. Cliff Sussman, and more.
Cost: $250.00
ECPG Member Cost: $225.00
To receive your membership discount, enter your ECPG Member Number and use code ECPG10
(Not an ECPG member yet? Join today)
Foundations in Gaming Disorder – Training Partner Profiles
The successful development and facilitation of the Foundations in Gaming Disorder (FGD) core training has been a collaborative effort and brain-child between ECPG, the Massachusetts Council on Gaming and Health, the Oregon Council on Problem Gambling, reSTART Life, and training sponsors.
The Massachusetts Council on Gaming and Health (MACGH) and their incredible team have been one of the foundational partners in the development of FGD. MACGH is providing the learning platform and registration for this fall's training program, and played a pivotal role in curriculum and program development, and marketing.
reSTART Life has been instrumental in making sure that FGD provides the best of subject matter experts in the treatment of gaming disorder. Not only do the reSTART co-founders, Hilarie Cash and Cosette Rae, participate as presenters themselves, they have also been the cornerstone behind its creation. They have provided expertise in the creation of a thorough training curriculum to best equip professionals to prevent, screen, assess, and treat gaming disorder, and also in recruiting the best minds across the country to speak on the diverse topics covered by the FGD program.
The Oregon Council on Problem Gambling (OCPG), through their previous Executive Director, Julie Hynes, Certified Prevention Specialist, served in the development of key curriculum on the prevention of gaming disorder. The prevention sessions this fall will be presented by Karen Hlady, Prevention Specialist and Community Engagement Service Provider with Gambling Support BC, Canada, who will be facilitating a new, interactive prevention case study for developing a Strategic Prevention Framework.
A big thanks as well to the Washington Health Care Authority for being a sponsor of FGD.
Gambling Counselor Core Training (30 CEs)
Feedback from the launch of ECPG's first 100% online Gambling Counselor Core Training (in March 2021) was incredibly positive and helpful in making the next offering even better. If you or a colleague are interested in learning more about the field of Gambling Disorder counseling, register now!
10 Hours Self-Directed
Due October 18, 2021
20 Hours Live Webinar
October 18-21, 2021
This training provides the total 30 CE hours required for certification as a Washington State Certified Gambling Counselor (WSCGC), and/or certification through the International Gambling Counselor Certification Board (IGCCB). The training includes a 10-hour self-directed portion (Part 1) and a 20-hour live-learning webinar portion (Part 2). Visit the training page for more details.
Who is this training for?
Licensed clinicians seeking Gambling Counselor Certification *

Anyone seeking a deep dive into understanding Gambling Disorder
* For those seeking to become Washington State Certified Gambling Counselors, please familiarize yourself with the Certification requirements , including education and licensing requirements, to verify your eligibility and ability to complete the Certification program.  
* Only those who qualify are eligible to complete the Gambling Counselor Certification program, but the Gambling Counselor Core Training is open to ALL who wish to develop an in-depth understanding of gambling, problem gambling, Gambling Disorder, and treatment services.
Here is what some attendees said about the training:
"I felt I learned even more than promised."
"Very impressed with the format and ongoing information"
"Great topics and the presenters are beyond simple knowledge; they are true experts"
"I will definitely use this at work immediately upon my return."
"For such a complex topic, the amount of info/resources shared was immense."
"It was a pretty incredible experience, and I am very grateful to have been able to participate, which I was only able to do via the scholarship. THANK YOU!"
Washington State Gambling Counselor Certification - Updates
Certification allows clinicians to offer and bill for gambling treatment services and provide support to individuals and families. It is a serious commitment, providing rewarding and life-saving services.
Those wishing to become a Washington State Certified Gambling Counselor (WSCGC) should familiarize themselves with all certification requirements listed in the Certification Manual here. Certification is available to those who currently possess a Washington Department of Health-issued license/certification in mental health, social work, marriage and family therapy, psychology, or substance use, and can meet all other certification requirements.
Certification/Renewal Updates and Announcements:
As of July 1, 2021, new applicants, and all renewals must provide documentation of a minimum of 6 hours of Cultural Competency training/continuing education.
The 100% online learning allowance was extended to December 31, 2021, at which time it will return to the standard requirement of only 10 hours of approved online/distance learning.
Please monitor the certification webpage for future updates or changes.
IGCCB Exam Prep eCourse (2 CEs)
The IGCCB Exam Prep eCourse is a self-directed/self-paced ecourse that provides: an overview of the Gambling Counselor Certification process, an overview of the exam process and handbook, 100 practice questions, study resources, and more. Earn 2 CE credits while preparing to take the IGCCB exam.
What some learners have said:
"This study course was FANTASTIC! I loved the videos as well."
"It gives me more self-confidence."
"It was extremely helpful."
Focus on the Future returns April 25-28, 2022! Join us at The Heathman Lodge in Vancouver, WA, as we come together to learn from leaders in our field, share best practices, successes, and challenges, and honor our roles in supporting and helping people impacted by gambling and gaming disorders. Here are just a few highlights to share now…
Clinical/Behavioral Health

Prevention and Education

Advancing Behavioral Health Equity

Recovery, Community, and Culture
Law and Justice

Innovative Trends
Call for presentations is open! If you're interested in submitting a proposal to present at the Spring 2022 Focus on the Future Conference, call for presentations is now open. Deadline for submissions is November 20, 2021. Full information and forms available at https://www.evergreencpg.org/training/focus-on-the-future/
Watch for more information coming soon on Registration Rates and Early-bird Dates.

Heathman Lodge Hotel Reservations at the special ECPG conference rate are now open! You can go directly to the Heathman Reservation Page (use this link) or call Heathman Lodge Reservations (1-888-475-3100) and ask for the Evergreen Council Conference rate to receive your special discount. ECPG Conference Rate room block is limited. Special rates available on a first-come/first-served basis for rooms booked by April 11, 2022.

Single/Double Deluxe Guest Room: $129/night

Single/Double Business Level Guest Room: $139/night
We look forward to being together again at Focus on the Future. This conference is always a reminder of how the collaboration and contributions of so many dedicated individuals in our field can pave the way for excellence in service and support.
Please Join Us in April!
FULL TRAINING SCHOLARSHIP AVAILABLE
Training/Professional Development Scholarships are available for Washington State licensed counselors, prevention specialists, peer/recovery coaches, and undergraduate/graduate students or professors/counselors in accredited Washington State college and university behavioral health, addictions, and counseling programs. Scholarships include full registration fees and more. Thank you to the Washington State Healthcare Authority for support of these professional development scholarships.
ECPG/NCPG JOINT MEMBERSHIP
Not yet a member? SIGN UP HERE
Take advantage of our ECPG/NCPG Joint Membership – join both and save!
As an ECPG member, you'll receive member discounted rates on all of our trainings and conferences – all of which offer Continuing Education Units from many associations and certification boards.
Many organizations, agencies, and government entities are developing programs, creating rules and codes, and offering resources around gambling and responsible gambling in Washington State. Here are a few of the most recent trending topics.
Voluntary Self-Exclusion Programs and Best Practices
Best Practices and Broad Perspectives for Voluntary Self-Exclusion Programs
Supporting the Gaming Industry's efforts to provide information and tools to reduce harms by offering Voluntary Self-Exclusion Programs is an important part of ECPG's work. Our Council has developed a brief overview of Best Practices and Broad Perspectives to assist Gaming Operators in developing Voluntary Self-Exclusion Programs that are designed to support and empower people in getting the help they need to address their gambling problems and achieve their health goals.
Click here to download the overview
In Washington, Voluntary Self-Exclusion Programs are available at Tribal Casinos, through Washington's Lottery, and soon via a statewide self-exclusion process managed by the Washington State Gambling Commission.
Washington's Lottery Voluntary Self-Exclusion
The Washington's Lottery Voluntary Self-Exclusion Program allows a player to request to be excluded from lottery activities within the state of Washington for a pre-determined length of time, and to be prohibited from collecting winnings valued above $600 or any second-chance drawing prize.
A Few FAQs
What does it mean to be self-excluded from Washington's Lottery?
A person who has voluntarily self-excluded from the Lottery cannot win a cash, promotional, or merchandise prize valued at more than $600 or any cash, promotional, or merchandise second-chance prize regardless of value. In addition, the person cannot enroll or maintain an account with the Lottery's My Lottery 360˚ program. Periods of enrollment are available in one (1), three (3), or five (5) year increments.
Is there a person at the Lottery I can contact if I have questions about voluntary self-exclusion?
You can send questions about voluntary self-exclusion to VSEProgram@walottery.com.
Where do I go to sign up for the Lottery's voluntary self-exclusion program?
You can find more detailed information and enroll in the voluntary self-exclusion program by printing the form from the Lottery's website Washington's Lottery (walottery.com) filling it out completely, and returning it to the Lottery in person or by mail. You must also provide proof of identity, such as your driver's license or passport. A notary affidavit is required only if sent by mail.
Gambling Commission Approves Sports Wagering Licensing Rules
The Washington State Gambling Commission (WSGC) unanimously voted on July 28, 2021, to approve sports wagering licensing rules that went into effect on August 30, 2021.
Sports wagering at Tribal casinos can begin in Washington State when sports wagering compact amendments are approved by the U.S. Department of Interior. Currently, 16 Tribes – the Confederated Tribes of the Colville Reservation, Cowlitz Indian Tribe, Jamestown S'Klallam Tribe, Kalispel Tribe of Indians, Lummi Nation, Muckleshoot Indian Tribe, Puyallup Tribe of Indians, Shoalwater Bay Indian Tribe, Snoqualmie Indian Tribe, Spokane Tribe, Squaxin Island Tribe, Stillaguamish Tribe of Indians, Suquamish Tribe, Swinomish Indian Tribal Community, Tulalip Tribe of Washington, and Skokomish Indian Tribe—have approved sports wagering compact amendments before the U.S. Department of Interior for review and approval. You can access each of these agreements and learn more about licensing requirements on the WSGC sports wagering webpage at Sports Wagering | Washington State Gambling Commission
Washington State Problem Gambling Task Force
A key project of the Washington State Problem Gambling Task Force is a new WA State Adult Problem Gambling Prevalence Study that is currently open. The Washington State University (WSU) survey lab has received more than 80 percent of the goal for completed responses since the survey opened in July. The study will remain open until September 20. The survey lab is also in the process of mailing Spanish-language versions of the survey (which can be completed online or hard copy paper format) to Hispanic/Spanish-speaking households that have not yet responded, with the goal to boost their participation in the survey. A final reminder letter in both English and Spanish will be sent to all households that have not completed the survey. It will include a QR code, with the additional goal of boosting participation in the 18-44 years of age category. Preliminary results will be available in Spring 2022, with final results by July 1, 2022.
The full Problem Gambling Task Force will have its next quarterly meeting on September 29, from 9-11 a.m. Problem Gambling Task Force Workgroups will resume meeting in September to continue the work of refining and identifying additional information needed for the recommendations in the final legislative report due in November 2022.
For more information about the work of the Washington State Problem Gambling Task Force, contact Roxane Waldron, State Problem Gambling Program Manager: roxane.waldron@hca.wa.gov
Now, more than ever, peer-led support for people seeking recovery from mental health and/or addiction challenges is crucial. Peer Washington is expanding its services in the state with the opening of its newest service site – Peer Olympia.
Peer Washington envisions individuals in communities connected by the shared values of health and well-being, personal development, and compassionate support of one another. Peer Olympia joins the three other Peer Washington service sites – Peer Seattle, Peer Spokane, and Peer Kent – in offering key services across the state.
"We are immensely excited for this opportunity to bring our essential services to another region of Washington State deeply impacted by behavioral health challenges," shared Peer Washington CEO and President, Joshua A. Wallace. "Our work supports individuals and their families from a holistic approach each and every day. Without daily support from a community of peers who understand what it is like to thrive with these chronic challenges, we leave people to sit in isolation plagued by stigma to repeat the cycles of addiction and mental health. This model allows everyone to both give and receive support, simultaneously ensuring connection and accountability along with recognizing the intrinsic value of lived experience."

Peer Olympia's charter is to provide peer-led, peer emotional support and development services to adults in Thurston, Mason, Grays Harbor, and Lewis counties seeking recovery from mental health and/or addiction challenges with a special focus on active military, veterans, people experiencing homelessness, rural community members, and their families and loved ones. Under the guidance of Stephanie Tompkins, Peer Olympia Site Director, and Cody B. West, Chief Program Officer, Peer Olympia will provide the Peer Washington core services of resource referral, peer coaching, peer facilitated support groups, supported employment, and supportive housing. Additional service opportunities will be added over time based on needs identified by the local community and funding availability.
 
You can learn more about Peer Olympia's grand opening, Recovery Coach Academy, and Peer Group Facilitator trainings and services at www.peerolympia.org and Peer Olympia Facebook page. To learn more about all of the Peer Washington service sites, click here: www.peerwa.org
PEER KENT – Open House
September 16th, 2021 4 p.m to 7 p.m.
Join us for the open house of Peer Kent. This location opened during the pandemic and never got a proper opening. Check out our offerings, meet the staff and pick up some swag!

216 W Gowe St STE 300, Kent, WA 98032
Click HERE for directions.
PEER OLYMPIA – Grand Opening!
September 17th, 2021 4 p.m. to 7 p.m.
The pleasure of your company is requested as we celebrate our newest location, Peer Olympia! Meet our CEO, chat with the staff and relax with local music. Don't forget to leave without a little gift from us.

522 Franklin St SE, Olympia, WA 98501
Click HERE for directions.
WIGA Conference & Expo
ECPG was pleased to be a part of this year's Northwest Indian Gaming Conference & Expo event organized by the Washington Indian Gaming Association at The Little Creek Casino Resort. Great conversations about bringing sports betting to Washington in a way that looks out for the best interests of patrons, latest developments in going cashless, and best practices in responsible gaming.
ECPG's Responsible Gaming Staff Training and Resources (RG STAR) training program is designed to equip gaming establishments to bolster their RG policies, staff training, and customer support while helping their staff to feel confident about how to report concerns about patron gaming problems and where to refer them for help resources. Learn more about RG STAR training for your team, Responsible Gambling Guidelines, and making your facility a Certified Responsible Gaming Member.
ECPG LIVE!
Don't miss the opportunity to check out the next episode live for a chance to interview the guest experts with your own questions! All episodes can be watched on-demand after the live broadcast.
Kaleidoscope
Reflections of Diverse Views on Mental Health Equity
Don't miss the next episode:
Kaleidoscope
Celebrating National Hispanic Heritage Month!
Friday September 17, 2021, 1 p.m. PT/2 p.m. MT/3 p.m. CT /4 p.m. ET
Don't miss the next live-streaming community event celebrating diversity, inclusion, and mental health equity. September 17, 2021 – 1 p.m. PT/ 2 p.m. MT/ 3 p.m. CT/4 p.m. ET, during National Hispanic Heritage Month. Special guests will help address issues around Access to Care; Barriers; Cultural Norms and Traditions; and Gambling in Latinx Communities:
Juan Baez
Problem Gambling Specialist (Kansas) and Co-Chair of National Council on Problem Gambling Prevention Committee
Alexia DeLeon, PhD
Assistant Professor of Professional Mental Health Counseling–Addictions Specialization at Lewis & Clark College in Portland, Oregon
Ruth Yáñez, MSW
Program Specialist, National Latino Behavioral Health Association, National Hispanic and Latino ATTC 
Learn more about National Hispanic Heritage Month.
"National Hispanic Heritage Month traditionally honors the cultures and contributions of both Hispanic and Latino Americans as we celebrate heritage rooted in all Latin American countries."
Connections: Healthy Gambling and Gaming Podcast
The podcast launched in October 2020 and now has 14 episodes and over 480 plays, with listeners from the US, Canada, UK, Australia, Germany, and Ireland!
Stay informed of upcoming episodes here.

Click the tiles below to access the latest episodes
Evergreen Council on Problem Gambling
1821 4th Ave. E, | Olympia, Washington 98506
360-352-6133 | info@evergreencpg.org